2021 AJ BELL TOUR OF BRITAIN LAND ART WINNER ANNOUNCED AND CAMBORNE PENPONDS SCHOOL CROWNED AS RUNNER-UP
---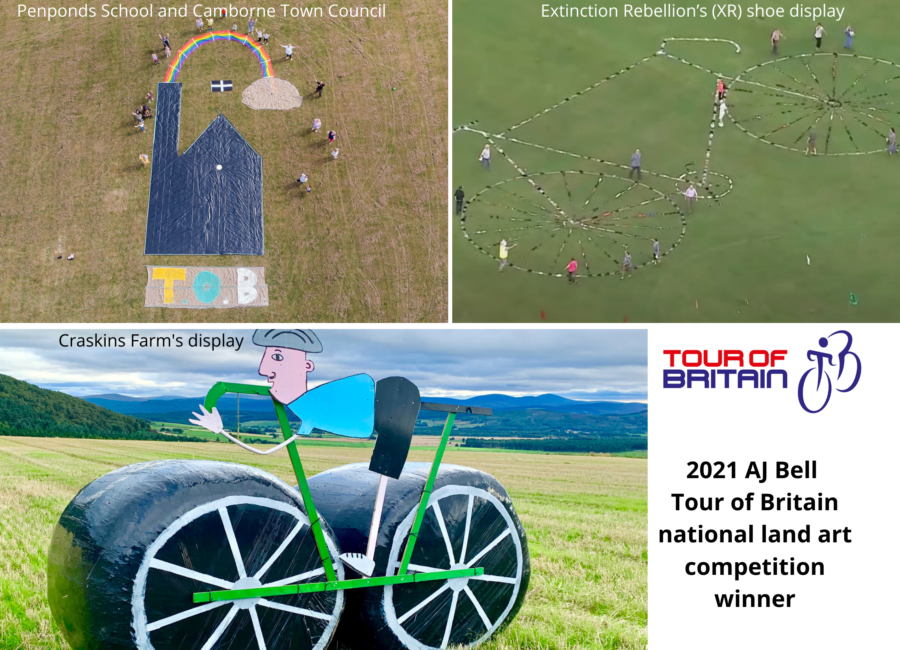 An Aberdeenshire farm has today been crowned the 2021 AJ Bell Tour of Britain national land art competition winner for its creative straw bale display.
Craskins Farm near Tarland, which was passed during the race's final stage between Stonehaven and Aberdeen, installed an imaginative mini peloton to celebrate the Tour's arrival in the North East. The display was made using straw bales and recycled materials that were gathered from around the farm and roadside verges.
The work was the brainchild of Dr Jenna Ross, whose parents, Brian and Alison, farm in partnership with her older brother, Stewart. The judging panel, which included AJ Bell Tour of Britain race director Mick Bennett, chose the display for its novelty factor as well as its environmental credentials.
Dr Ross previously created a straw bale display in support of NHS staff during the COVID-19 pandemic. Her peloton was repurposed six weeks after the race's visit into a Halloween-inspired display for local children. Additionally, all of the farm's displays raise money for North East Sensory Service (NESS), a local charity that supports people in the area who have hearing and/or sight loss.
Dr Jenna Ross said: "I am absolutely delighted to win the 2021 Tour of Britain National Land Art Competition. It was such a pleasure to have this world-renowned event come to our very special corner of the world here at Queen's View as Craskins Farm.  
 "The art was inspired by my younger brother, Duncan, who is registered blind and is passionate about cycling. Unfortunately the pandemic massively impacted his ability to get on his bike due to the social distancing challenges of a tandem bike. So this was for him! 
"It was also for our local community and, of course, the brilliant competitors. I hope it gave each and every rider that extra push during their final climb of the race at Queen's View! I also want to give a massive shout out to my entire family who helped with the final build the day before the race. Proper teamwork!"
Councillor Andy Kille, leader of Aberdeenshire Council, added: "I am absolutely delighted that the coveted winning title for the 2021 AJ Bell Tour of Britain Land Art Competition has been awarded to Dr Jenna Ross whose family live and work at Craskins Farm near the picturesque Queens View at Tarland. Aberdeenshire is famed for its production of quality primary produce from land and sea and is home to some of the UK's most iconic brands. 
"Jenna's creative use of wrapped straw bales for slick tyres, coupled with a farming ethos to reuse where possible and a generous sprinkling of imagination made for an engaging mini peloton set on a uniquely scenic background and showcased to a global audience. We were extremely proud that our communities across the region came out to every vantage point to cheer on the world class cyclists. I look forward to Aberdeen and Aberdeenshire hosting the first stage in 2022 and welcome the opportunity to highlight the diversity of the area."
Two other installations – those by Penponds School & Camborne Town Council in Cornwall and Extinction Rebellion's (XR) shoe day display next to the Angel of the North sculpture in Gateshead – were crowned this year's runners-up.
Created in co-operation with Camborne Town Council, Penponds' entry featured a wonderful engine house and pasty to celebrate Cornwall's heritage, as well as a rainbow in recognition of that which features on the school's badge. The installation was overseen by pupils, parents and staff from Trencrom Class.
XR's land art formed a giant bicycle using 1,000 pairs of children's shoes, which symbolised absent children whose deaths are linked to climate change. XR wanted the installation to highlight the plight of our children and grandchildren in the future as a result of global warming.
Mick Bennett, AJ Bell Tour of Britain race director, said: "After the events of the past two years, it was incredibly heart-warming to see so much roadside support for this year's AJ Bell Tour of Britain in September. The community spirit that makes the event so special was exemplified by the number and quality of those land art installations along the route.
"Following much discussion, I'm delighted to announce the winner and runners-up of this year's competition. From the uniqueness of Craskins Farm's installation and the history displayed in Penponds' creation to the importance of the message conveyed in XR's shoe day display, I'd like to congratulate them for the energy, enthusiasm and quality of their contribution towards the 2021 Tour."
The 2022 AJ Bell Tour of Britain will take place between Sunday 4 to Sunday 11 September. Already confirmed for the 2022 route is an overall start hosted by Aberdeen and Aberdeenshire, following the success of the final stage of this year's race, a midweek stage in Nottinghamshire, and a final stage on the Isle of Wight for the first time.
You can watch a recap of the 2021 AJ Bell Tour of Britain, won by Wout van Aert, here.