"Anything is possible and nothing is out of reach." How a metal giant and a Helston resident inspired Cornwall to host the Tour of Britain
---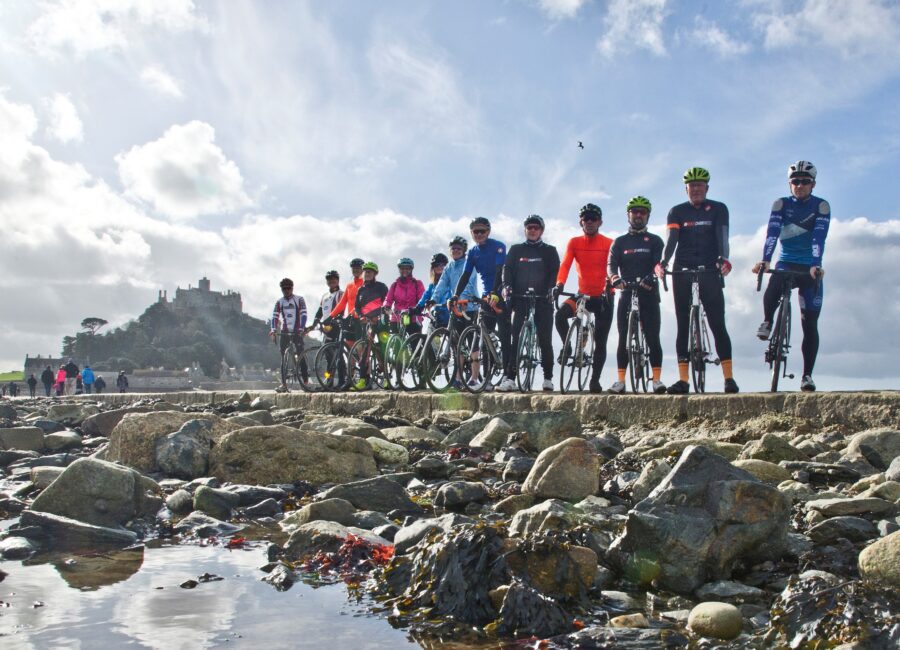 The Tour of Britain Grand Depart arriving in Cornwall was a long road with many setbacks. But now, this Sunday, we can confidently show the world there is no better place to enjoy life on two wheels.
It was nearly five years ago that Helston resident Dave Potter became the driving force behind bringing the UK equivalent of the Tour de France cycle race to Cornwall.
Dave had pondered the success and shared local pride of large scale unforgettable events in Cornwall – such as the largest mechanical puppet ever created in the country, the Man Engine tours in 2016 and 2018, the Olympic Torch Relay of 2012, even the greatest influx and outflow of visitors ever seen in Cornwall for the 1999 solar eclipse.
Big events mean big audiences. Build it, and they will come. Last year, after years of promoting the prospect of a Cornwall Tour of Britain, Dave was able at last to say, "This is a fantastic opportunity to present to the world the landscape and culture of Cornwall."
"Hosting this premier sporting event also enables the generation of economic activity, promotion of healthy living and cycle tourism in Cornwall. But above all, it will hopefully act as an inspiration to young people that anything is possible, and nothing is out of reach."
"The Tour will bring economic benefits and encourage investment in cycling, but it will also bring some much-needed fun after the year we have all had."
But, as so often recently, progress was suddenly punctured by the pandemic, and sporting dreams had to be packed away. Until this year.
In 2021 we have already marvelled at the cycling successes in Tokyo, and now Cornwall will have world champion cyclists speeding through its countryside, villages, towns and city. A spectacle that will owe a lot to the determined vision of Mr Potter, and others who joined the call including famous cyclist Chris Opie, born in Truro, and Cornwall Councillor and former Mayor of Truro, Loic Rich.
In many ways Cornwall, traditionally a favourite for biking holidays and nostalgic country tours, is suddenly gearing up for a future in the saddle. Cycling is such an ideal fit with how Cornwall is embracing the new reality – low carbon transport, mental and physical wellbeing, the uplifting benefits of times spent in the fresh air.
While other parts of the country were building indoor velodromes, Cornwall was looking to develop its outdoor assets and heritage, by making biking trails on old train lines, along estuaries and following heritage mineral tramways. Ideal routes with gentle gradients that took cyclists to ports and harbours, across ancient 'saint's ways' or into the heart of the UK's largest World Heritage Site.
In Cornwall, where steam once powered an industrial revolution, pedals now power a quieter, greener revolution. Among Cornwall's treasure trove of cycling assets are:
The Cornish Way Network 195 miles of linked trails from Bude to Land's End.
The Camel Trail a level former train route with bike hire alongside a spectacular estuary.
The Mineral Tramways 37 miles of tin and copper mining heritage along tram and railway routes, and through World Heritage Site scenery.
National Trust Lanhydrock specially-designed family-friendly cycle trails colour-coded to ability.
Places to Ride scheme nine community cycle tracks in Cornish schools, teaching young ones cycle safety and giving outdoor exercise.
The West Kernow Way just opened, a visually stunning 150 mile all off-road circular route which loops around the Lizard and Penwith peninsulas, ideal for the new tourism phenomenon 'bikepacking'.
The Tolgus Trail a new off-road trail just opened near Portreath as part of a project to open up links between the town and Redruth, encouraging active travel.

And coming soon – The Cornwall Cycle Hub  In the week leading up to the Tour of Britain Grand Depart planning permission has been granted for the fully accessible Cornwall Cycle Hub, a brand new £7 million state of the art facility  with opportunities for residents of all ages and abilities to take part in exciting, fun and exhilarating cycling activities. The site is adjacent to Newquay Aerohub Business Park. A partnership between British Cycling, Cornwall Council and Sport England.
Photo credit: John Martin Photographic Design