Saint Piran and Tour of Britain 2021 – inspiring the next generation of cyclists
---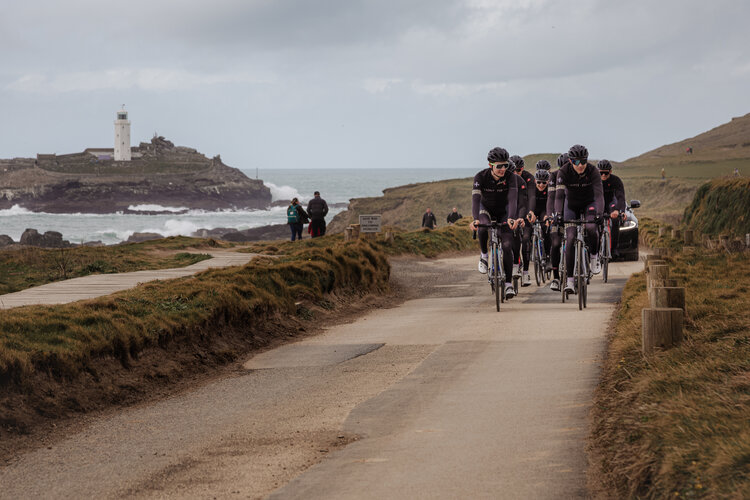 As Cornwall's own professional cycling team, Saint Piran is delighted to support the Tour of Britain 2021. It is fantastic that Cornwall has been chosen as the location for the Grand Depart of Britain's premier cycling road race.
This historic event will shine the spotlight on cycling in Cornwall and highlight the great opportunities that the sport offers people of all ages.
Saint Piran is pleased to support Cornwall Council and its partners by collaborating on the event, sharing our insights, expertise and inside knowledge about professional cycling. This joint effort has been really fruitful and we have been thrilled to see the shared enthusiasm for promoting the sport.
One thing that makes Saint Piran stand out in the professional cycling world is our three-tier structure. As well as elite level pros, we also support enthusiastic amateurs and emerging young talent. This strong focus on grassroots riders is unique to Saint Piran. We are passionate about cycling in Cornwall and we see a bright future ahead. There is an increasing interest in healthy living and in protecting the environment, significant trends that will help to fuel interest in cycling overall and support Cornwall Council's increased investment in cycle paths and cycle routes.
Saint Piran is a springboard for young amateur riders looking to move up to the next level. We identify and nurture young talent, providing a platform for young riders to race within a professional set-up, where they can benefit from the knowledge and experience of other riders as well as a management team with many years in the sport.
Saint Piran has already made a big impact on the professional racing scene. In May 2019, Saint Piran was the highest placed Elite team in the Ovo Energy Tour Series and Team Leader Steve Lampier won the points jersey. Although the Covid-19 pandemic stopped racing in 2020, we are now back on the saddle, and in 2021 Saint Piran will compete in more than thirty events.
New for 2021 is our Women's Team, which will help to realise our vision of more women actively racing in the South West and at national level. Support and regular training will enable the team to compete in a wide range of races, from the National Road Series and the Tour Series down to smaller local events.
Our passion for promoting cycle racing means we are keen to do all we can to support the Tour of Britain 2021. We see this as a superb showcase for the sport we love and we hope that it will inspire others to get on their bikes.
Saint Piran would love to see more amateur riders getting involved in the sport, either by participating in our local time trials and circuit races or simply joining us on social rides.
It is only through organisations such as Saint Piran identifying and nurturing grassroots talent that elite sports people and champions can be developed. We are so excited that the 2021 Tour of Britain is coming to Cornwall, and we hope that the event will be a powerful catalyst, inspiring others to get involved in cycling. If that happens, this year's Tour of Britain will leave a lasting and valuable legacy.
Find out more about Saint Piran here