Saint Piran Pro Cycling to guide The Great Tour around Cornwall
---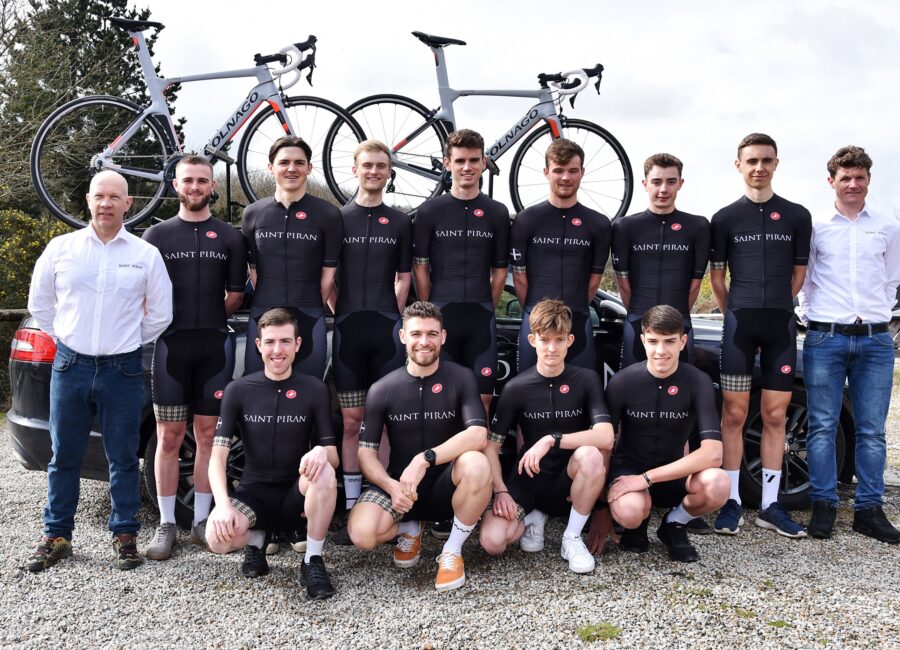 The Great Tour, a 64-day, 6,900 kilometre awareness and fundraising cycle ride around the British coast will be hosted by the Saint Piran cycling team when it reaches Cornwall later this month.
Two cyclists – Hugh Roberts and Robin Young – are aiming to ride around the entire coastline of Great Britain, having got underway from the Isle of Wight on Saturday 4 July.
The pair arrive in Cornwall on Day 55, Thursday 27 August, when they cycle 106 kilometres from Clovelly to Padstow.
Over the next four days cyclists from Saint Piran Pro Cycling, including Chris Opie, Steve Lampier and Tristan Davies, will guide The Great Tour as it heads to St Ives (Friday 28 August), Penzance (Saturday 29 August), Falmouth (Sunday 30 August) and the Eden Project (Monday 31 August), covering over 400 kilometres of cycling around the Cornish coast.
Saint Piran Team Principal Richard Pascoe said:
"We can't wait to welcome the Great Tour to our lovely county. We're Cornwall's first pro team, but we work at all levels, from elite through development level and down to grassroots. Steve, Chris and Tristan are all local boys so they're the perfect guides for the Cornish stages.
"And this is a great scene-setter for the 2021 Tour of Britain, which starts in Penzance. A word of advice, though. Don't challenge these guys to a race – they're rather quick!"
Commenting on The Great Tour so far, Hugh Roberts said;
"The Great Tour has reminded of the sense of absolute freedom and satisfaction that you get from riding along our unsurpassable richly varied coastlines.
"We are looking forward to reaching the beautiful Cornish coast, which will bring back many happy memories from when I rode The Great Tour in 2010, and from numerous holidays for both Robin and myself.
"I hope thousands more people will be able to enjoy this cycling odyssey in years to come and to use riding around our beautiful coast as a fundraising platform."
Speaking about reaching Cornwall, Robin Young said;
"The toughest part of the ride is still to come in the south west, but I have many happy memories from family holidays in Cornwall, so cycling through the likes of Padstow, St Ives and Fowey will feel like being at home, and hopefully keep me going! 
"People are making the effort all seem worthwhile with their support.  We have 20% of our funding target now and expecting this to swell as the finish line approaches.  Our target of £69,000 is equivalent to £10 per km.  If we can achieve that or more, the Great Tour and our charity partners Diabetes UK and Ambitious about Autism will be ecstatic."
In 2020 The Great Tour is raising money for two charities, Diabetes UK and Ambitious about Autism and has the support of partners Ascot Lloyd, a leading UK independent financial advice firm and ŠKODA.
Inspired by The Great Tour event that took place in 2010 and 2015, The Great Tour ride aims to fill the gap between when the Women's Tour and Tour of Britain professional cycle races should have taken place, had they not been cancelled due to the COVID-19 pandemic.
The Tour of Britain had been due to visit Cornwall for the first time in September 2020, when Penzance and Bodmin were due to host the opening stage on Sunday 6 September, which has now been delayed by a year to September 2021.
This year's ride aims to help create an annual fundraising ride around a recognised and waymarked cycle route around the whole coastline of Britain from 2021 onwards.
From 2021 the Great Tour ride will be the fundraising flagship of The Great Tour, for which charitable status is being sought. This annual event will raise money to support projects or charities in community, health and environmental sectors – all of which are consistent with the Great Tour's ethos.
More information about The Great Tour can be found at www.thegreattour.co.uk and you can find out more and donate via the Just Giving page here.
Past editions of The Great Tour in 2010 and 2015 have supported a range of health charities, including The Prostate Cancer Charity, MacMillan and Anthony Nolan.
Following the coastline as closely as possible by bike, and never losing the sight, the sound, the smell of the sea or sense of the sea, The Great Tour route takes in 6,900 kilometres of roads, cycle paths and green lanes around the country in a celebration of Britain's coastline.